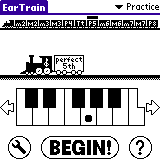 OUR SOFTWARE
NotePad
BeatPad
BugBand
EarTrain
SpinPad
SoundPad
SynthPad
MixPad
AxisPad

miniMusic EarTrain 1.0 Buy Now!
Learn to recognize musical intervals with this educational game. A great introduction to ear training or a fun drill for the experienced musician. Work your way through all of the intervals from the minor 2nd through the perfect octave, or choose just the intervals you want to focus on. Recognizing intervals is the key to chords and musical scales.

EarTrain includes 10 levels and a Practice level to freely explore and hear different intervals at your own pace. Instructions are built into the software and various playback preferences are available. Fully compatible with Palm OS 5 and includes full support for enhanced sound (either using the Beat Plus Springboard module or the sound card built into all Sony T, NR, NX, NZ and TG-series Clies) and MIDI output.

Only $11.95 US Buy Now!

EarTrain is included in our Handheld Music Suite or on CD-ROM, both of which are available from our On-line Store.


The demo only lets you play the first three levels (the Practice level, Major and minor seconds, and Major and minor thirds). Otherwise it is full featured so you can see if EarTrain is right for you.

Compatible with the enhanced sound found on the Beat Plus Springboard module and the T, NR, NX, NZ and TG-series Sony Clie handhelds!