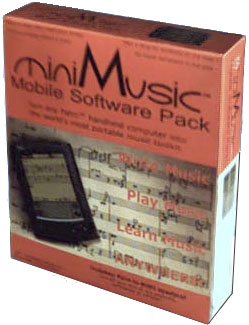 The miniMusic Mobile Software Pack contains everything you need to turn your Palm Handheld into a powerful and portable music toolkit. Included are our leading NotePad and BeatPad applications, Theremini by Pete Moss, and a Palm-to-MIDI interface that lets you connect your Palm to any electronic music instrument* (keyboards, samplers, synthesizers, drum machines, and more).

The software will let you work how you want and where you want. The simple and responsive interface is ideal for the beginner, but all of the tools you'll need to get some serious work done on the road are here too. Songs composed in NotePad can be played on the Palm, converted into a Palm Alarm, or exported to your desktop computer during your next HotSync. BeatPad lets you interact with the music as it plays, changing and swapping patterns to evolve your music over time. With the included MIDI interface you can "plug in" anywhere and start performing.

Also in the box are additional demos and shareware, a 74-page printed manual (pocket sized so you can read it while you work on your Palm), and a registration card to ensure you get the latest upgrades and technical support. Bought separately all of this would cost over $80 US!

The Mobile Software Pack has been discontinued.
Please see our new Handheld Music Suite and Pro Music Suite for retail packaging.